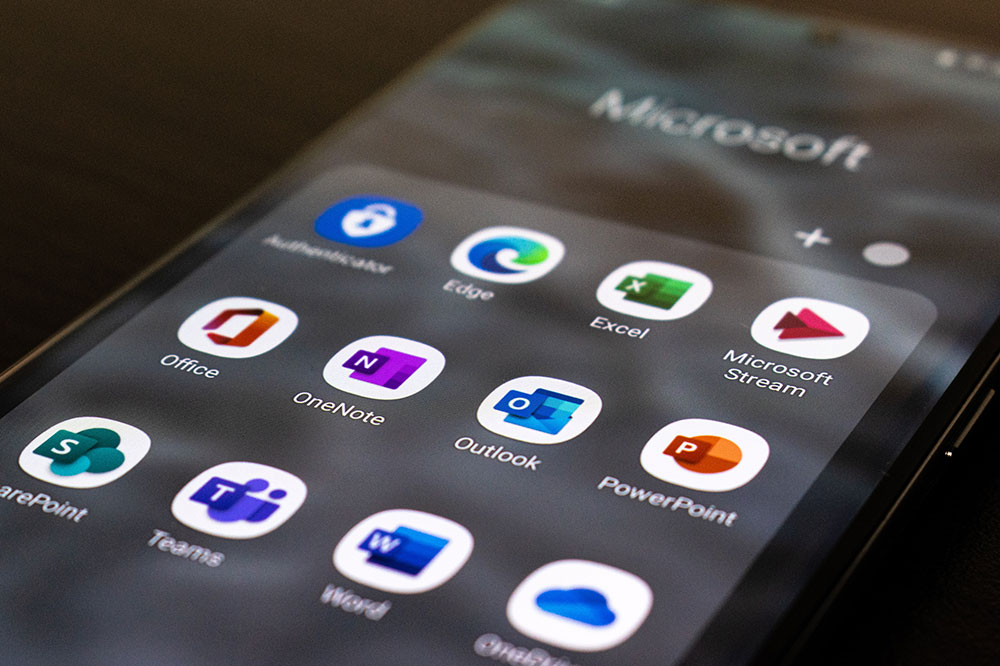 Microsoft 365 Services in Uganda
Unlock the full potential of your business with Microsoft 365 Services in Uganda. Our comprehensive suite of productivity tools, including Word, Excel, PowerPoint, and Teams, empowers your team to collaborate seamlessly, increase efficiency, and drive innovation. Experience secure cloud storage, advanced communication solutions, and integrated workflow management tailored to your organization's needs. Discover the power of Microsoft 365 Services in Uganda today.
Streamline Workflows with Microsoft 365 Services in Uganda
Microsoft 365 is a product family of productivity software and cloud-based services owned by Microsoft. It encompasses online services such as Outlook.com, OneDrive, Microsoft Teams, programs formerly marketed under the name Microsoft Office (including applications such as Word, Excel, PowerPoint, and Outlook on Microsoft Windows, macOS, mobile devices, and on the web), enterprise products and services associated with these products such as Exchange Server, SharePoint, and Yammer. It also covers subscription plans encompassing these products (formerly Microsoft 365), including those that include subscription-based licenses to desktop and mobile software, and hosted email and intranet services.
We assist organizations in the transitioning and setup to Microsodt 365.
Generation Solutions is proud to offer comprehensive Microsoft 365 services in Uganda, enabling businesses to unlock their full potential and thrive in the digital era. Microsoft 365 is a powerful suite of cloud-based productivity tools that encompasses applications like Word, Excel, PowerPoint, Teams, and more. With our expertise and tailored solutions, we help businesses of all sizes harness the capabilities of Microsoft 365 to enhance collaboration, productivity, and security.
Key Features of Microsoft 365 Services:
Productivity Tools: Microsoft 365 provides a wide range of productivity tools that empower your team to work smarter and more efficiently. With applications like Word, Excel, and PowerPoint, you can create, edit, and collaborate on documents, spreadsheets, and presentations seamlessly. These tools offer advanced features, intuitive interfaces, and real-time collaboration capabilities, enabling your team to produce high-quality work while streamlining workflows.

Microsoft Teams: Microsoft Teams revolutionizes communication and collaboration within your organization. It serves as a hub for teamwork, combining chat, video meetings, file sharing, and project management in one centralized platform. Teams enables virtual meetings, facilitates instant messaging, and promotes teamwork, regardless of the team's location or size. Experience enhanced communication, teamwork, and productivity with Microsoft Teams.

Cloud Storage and Security: Microsoft 365 ensures secure cloud storage for your business data through OneDrive for Business. This allows you to store, access, and share files securely from anywhere, on any device. Our services include seamless integration and setup of OneDrive, enabling your team to work on files collaboratively, ensuring data consistency and accessibility while maintaining strict security measures to protect your valuable information.

Email and Calendar Management: With Microsoft 365, you can manage your emails, contacts, and calendars effectively using Outlook. Our services include setup and configuration of Outlook, ensuring smooth email communication and efficient calendar management. Experience the benefits of a professional email platform that integrates seamlessly with your other Microsoft 365 tools.

Enhanced Security and Compliance: Generation Solutions understands the importance of data security and compliance. We implement robust security measures to protect your organization's data, prevent unauthorized access, and safeguard against cyber threats. Microsoft 365 includes built-in security features such as multi-factor authentication, data encryption, and advanced threat protection, ensuring the highest level of security for your business.
Why Choose Generation Solutions for Microsoft 365 Services?
Expertise and Experience: Generation Solutions has a team of skilled professionals with extensive experience in implementing and managing Microsoft 365 solutions. We stay updated with the latest features and best practices to provide you with top-notch services.

Tailored Solutions: We understand that each business has unique requirements. Our team works closely with you to understand your needs and tailor the Microsoft 365 services accordingly. We ensure that the solutions align with your business goals, enhance productivity, and improve collaboration.

Seamless Integration and Migration: Generation Solutions offers seamless integration and migration services to ensure a smooth transition to Microsoft 365. We take care of the entire process, minimizing downtime and disruption to your operations.

Training and Support: Our services include comprehensive training and ongoing support to maximize the benefits of Microsoft 365. We provide guidance to your team, helping them make the most of the tools and features available.